Jim & Ducky's Engagement Gallery

We got a couple dozen photos, and at least a couple of video clips, of the engagement. They are listed here for your viewing pleasure. This page will drag nearly a megabyte of image data along with it, so please be patient. Click on photos to see full-sized versions, then click on your browser's "Back" button to return to the gallery.
Photographs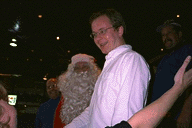 The moment of realisation. Note Ducky on her knees. Santa is trying to give Jim the ring-equivalent. Jim is busy being stunned. Check out the electronically-enhanced closeup.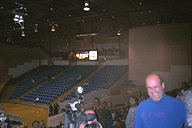 If you look reeeally closely, like in this electronically-enhanced closeup, you can see that the scoreboard reads: "Jim Delahunt: Will you marry me?"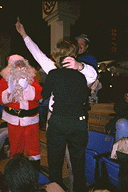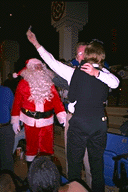 Jim displays the ring-equivalent, a silver bracelet. At this point, the crowd of 2,700 Lasers fans is applauding wildly. It takes Jim a little while longer to remember that Ducky had asked a question, and deserves an answer. The answer is "Yes".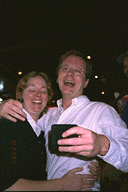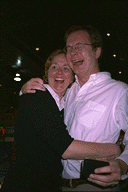 Jim and Ducky were very happy. Unfortunately, it seems neither one of them could keep their eyes open for long. Check out the electronically-enhanced left closeup and right closeup. (Experiment: the right-hand photo in an alternate "Lab" form.)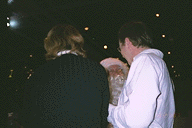 Santa offers his congratulations.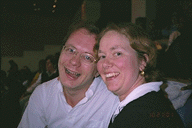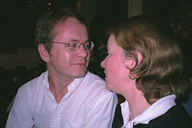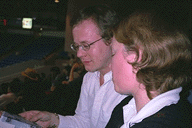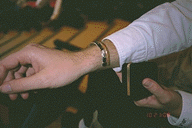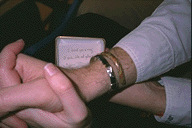 Instead of an engagement ring, Ducky got Jim a silver bracelet. It is an AIDS memorial design -- see the ribbon shape? She also wrote a poem, in the form of a sequence of haikus.

(Another experiment. Here's a 6-bit version of the left-hand image, and a quarter-size version. Doing our bit for bandwith conservation.)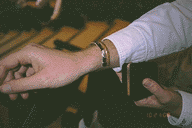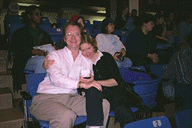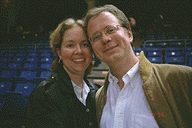 Funniest thing. We both photograph better when we're radiantly happy. Check out yet another electronically-enhanced closeup.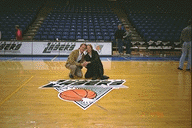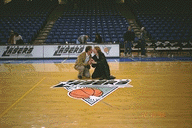 Commemorating the first marriage proposal in the history of the San Jose Lasers, and perhaps even in the history of the American Basketball League.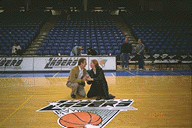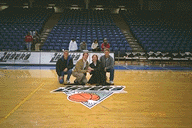 Ducky's housemates, Rich and Chris, came to the game with us. They didn't know what was in store, but were pretty happy to see it unfold. At one point Rich did wonder just how long this picture-taking was going to last. The pictures of Jim and Ducky (apart from the on-court ones) were taken by Chris. Thanks, Chris!
Video Clips
The Sports Channel captured a short MPEG clip (approx. 1.1 MB) of us embracing. This is part of a longer 23-second clip which we are still trying to get converted. KRON-TV has a 4-second clip, which actually made it on the air! If you want to see the videos without waiting for us to convert them, bribe us with some yummy food, and we'll show them to you.

---
Maintained by Jim DeLaHunt. Last updated 1/24/97.
| Jim & Ducky Engagement home | Jim's home page |